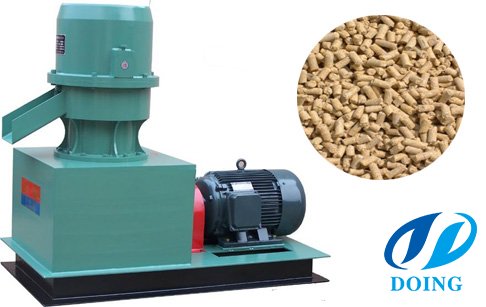 Animal feed pellet machine
Introduction of animal feed pellet machine:
1. Flat die animal feed pellet machine is an original machine for animal feed.

2. This animal feed pellet machine is equipped with high quality die and rollers and has advanced technology. For driving system we use double motor V-belt, which is of little space occupation, uniform stress, simple structure and easy operation.

3. Users can change motor and die to meet the needs of different production capacities and specs, thereby obtains ideal technology and economy effect.
Main performances and features of animal feed pellet machine:
(1) Simple structure and wide applicability. Small cover and low noise .

(2) Power feed and grass power can be made into pellet with only some liquid. Therefore, the water containing rate of pellet feed is the same as before when it is made into the pellet, which means that it is more conductive to storing.

(3) Feed pellets made by this animal feed pellet machine are with high hardness,smooth surface and full of internal curing,which can not only improve digestion and absorption of nutrition but also kill the general pathogenic microorganisms and parasites. They can be used for feeding rabbits, fish, ducks, cattle, sheep and pigs, which have a higher economic benefit compared with mixed power feed.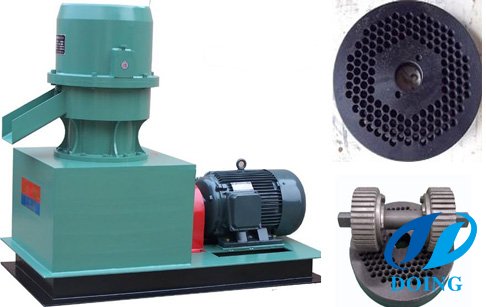 The mould and rollers are the main parts of animal feed pellet machine

Working principle of animal feed pellet machine:
Animal feed pellet machine works at the basis of mechanical circular motion, and are driven by the motor power, which can drive gear( or belt) pass to spindle flat membrane and then makes the pressure roller rotate in the function of friction. The high friction temperature between pressure roller and flat membrane can make power material gelatinize under high temperature. Protein coagulate s and changes its figure and comes out from membrane hole under extrusion effect. The needed length of pellet can be gained by adjusting cutting knife. Pellet,after discharging, will be sent outside the machine by material throwing tray.
---
---
Get Support or Price!
If you want to get more information and offer of the equipment,leave us message online,we will reply as soon as possible !