Complete wood pellet production line is designed for industrial production to make biomass pellets from any type of agro and forestry wastes with output from 1 ton to 10 ton per hour. The finished wood pellets are widely used for heating purposes of industrial boilers and large power plants as well as home use to alleviate the energy crisis and meet eco-friendly requirements.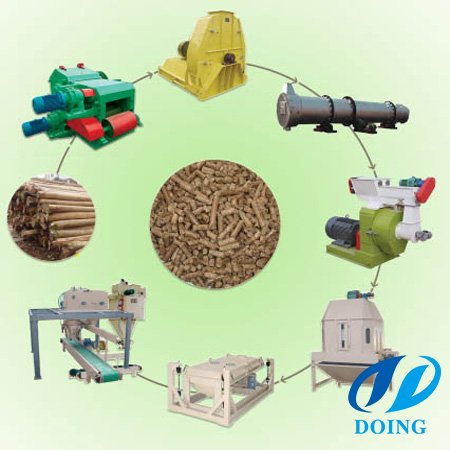 Biomass wood pellet machine
Wood Crusher Introduction
Wood crusher is ideal equipment for producing various types of wood products. Wood pellets or biomass briquettes production line also needs crushing equipment. Wood crusher is specially designed to crush branches, tree roots,slab scraps and so on for further production.It occupies little room which makes it quite a popularity in small size biomass fuel plants.

Rotary Wood Dryer Introduction
Rotary drum dryer is your best choice to dry biomass materials of high moisture content and produce high quality biomass fuel. Biomoass materials go through dryer can improve biomass fuel efficiency of 5-15% and lower down emission. It can be used for drying a wide range of biomass materials such as alfalfa, straw, sawdust, marigold, wood shavings, manioc waste, bagasse, colza cake and leaves, etc. Featured by low energy consumption and high drying efficiency, it is widely employed in chemical industry, metallurgy, building and mine digging, etc. The heat efficiency reaches 80% which is much more higher than other drying equipment.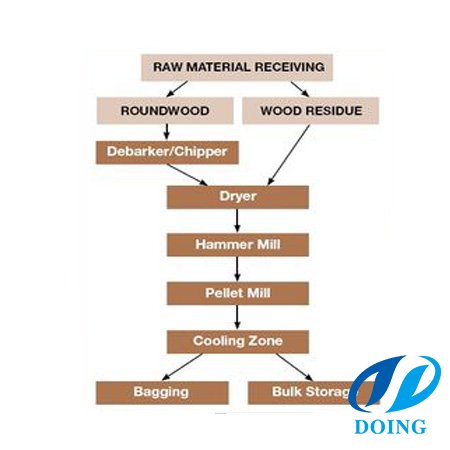 Biomass wood pellet production line flow
Brief Introduction to Industrial-use Ring Die Wood Pellet Mill
Ring die wood pellet mill is specially designed for mass industrial production of wood pellets. The raw materials are easy to obtain, like groundnut shell, sawdust, paddy straw, wheat straw, palm husk, rice husks, etc and many other agro and forestry wastes. The final pellets can be used for industrial boilers and large power plants as well as home heating.

Pellet Cooler
Biomass pellets or briquettes from pellet machine or briquette machine are with high moisture content above 16% and high temperature degree about 70-85℃, therefore cooler is necessary to low down material temperature to 3-5℃ higher than room temperature and for safely stored or transported in case the mildew.

Automatic Wood Pellet Weighing & Packing System Introduction
Amisy automatic wood pellet weighing and packing system adopts international advanced PLC technology to achieve intelligent quantitative packaging of wood pellets. With unique features of compact structure, high weighing accuracy, easy operation and stable performance, it is popular in wood pellet, feed pellet, chemical and metallurgy industry.
---
---
Get Support or Price!
If you want to get more information and offer of the equipment,leave us message online,we will reply as soon as possible !