Chicken feed pellet machine:
This chicken feed pellet machine belongs the extruding machine,it can extrude all kinds grain/biomass into pellet ,then feed to animal,poultry,,bird,dog,pig,chicken etc,the raw material can be different grain,such as wheat,corn,soybean,soyabean meal,etc,all most all the grain into pellet directly without any Adhesive materials,but the raw material size should less than 1-5mm with moisutre 8-15%.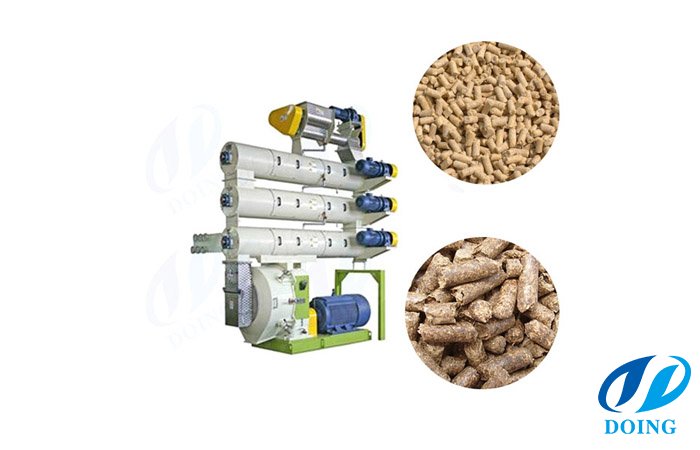 Chicken feed pellet machine
Chicken feed pellet machine application:
Chicken feed processing machine is widely used to manufacture pellets for animal feed including fish food (aquafeed) from prepared feedstock grains (barley, corn,malt, oats, soybean, etc.). Production volume of pellets per pellet mill can range from 500 kg/h to 20 t/h.

Advantages of chicken feed pellet machine:
1) Feeder is variable speed controlled to meet different outputs requirements;
2) It is equipped with magnet and over load protection system, which can protect machine well during production;
3) Double jacketed conditioner can extend the time of material cooking and gelatinization to enhance conditioning effect;
4) It can be equipped with one, two, three or more layers of jacketed conditioner.
5) Can be equipped with double-layer, three-layer folder conditioner or double shaft track conditioner, to meet the

Different needs of producing high grade livestock and poultry feed and aqua-feed.
---
---
Get Support or Price!
If you want to get more information and offer of the equipment,leave us message online,we will reply as soon as possible !