Double Paddle Feed Mixer Grinder Introduction
Feed paddle mixer grinder is a horizontal mixing device widely used for mixing grain powder in feed pellets production line .

Feed paddle mixer grinder

design is based on a U – type tank with dual shafts and paddles extending the length of the tank. The action of the pitched paddles moves material from the bottom and forces the material back down between the shafts, which will give a complete and homogeneous mixture of materials. Ideal mixing machine for homogeneous mixing of different ingredients in a shortest time (CV< 5%) irrespective of density, shape and size . Mixing time is 30-120s.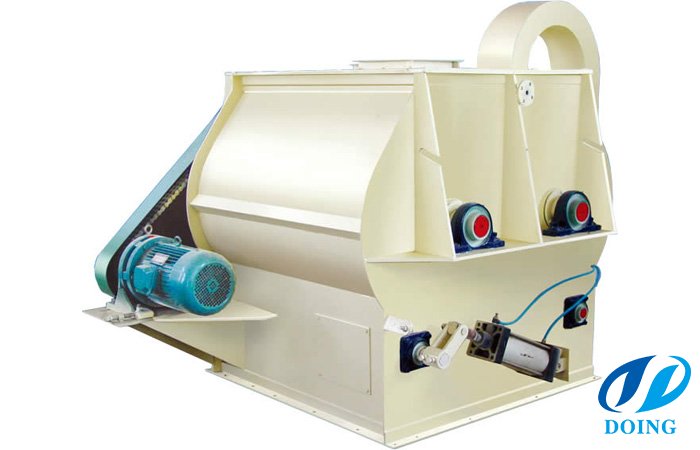 Double Paddle Feed Mixer Grinder Features
1. Wide applied to feedstuff, food, chemical and fertilizer industry.
2. Short mixing period, 30-120s is enough for every batch of material.
3. High homogeneous degree, CV ≤5%, no material segregation.
4. Full-bottom type of material discharging, quick and less material residue.
5. Equipped with air return duct which ensure no powder leakage and protect working environment.
6. Atomizing nozzle can be customized if there is need to add molasses, oils & fats and other liquids.
7. Low energy consumption. 3/5 energy saving compared with other feed mixer.
8. Three materials discharging ways: manual operation, motor-drive and pneumatic discharging methods.

Feed Double Paddle Feed Mixer Grinder Application
1. Double feed mixer grinder achieves unmatchable effects for feed material mixing, addictive adding, powder material mixing, etc. It plays an irreplaceable role in the complete feed pellets production process.
2. Our double paddle feed mixer grinder also has wide application in other industries such as chemical industry, mining industry, construction industry, seasonings industry, etc.
---
---
Get Support or Price!
If you want to get more information and offer of the equipment,leave us message online,we will reply as soon as possible !