We are able to provide complete livestock & poultry feed manufacturing mill plant solutions, including total planning, civil engineering, steel construction, storage system, feed processing machinery, intelligent packing, electrical control system. Our company has engaged in

livestock & poultry

feed mill plant for 20 years and thus has rich experience on feed machinery after repeated attempts and trials.

Livestock & Poultry Manufacturing Process
01 Material Receive System
Easy to operate,every inlet has one impulse dust collector,keep environment clean,protect workers healthy.

02 Crushing System
Pre-cleaner clean raw material ,then after magnet separator,storage bin and feeder,material goes into crusher to become powder.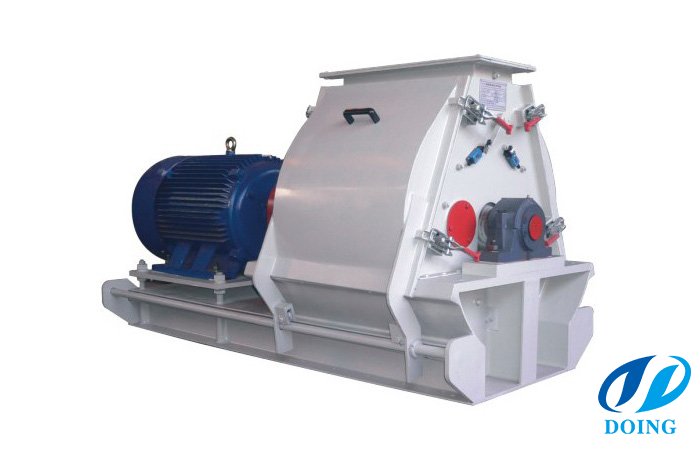 Features of our crushing system:feed hammer mill
(1)Stable and Durable
Widened grinding surface, fully optimized hammer arrangement, wonderful performance in micro grinding.
Forward and reverse work of rotor, longer service life of hammer.
High-precision dynamic balance detecting rotor, little vibration, low noise.

(2)Humanization
Movable operating door and linkage sieve press structure, more convenient for operation and maintenance.
Equipped with safety interlocking device for safety.

(3)High Output, Low Energy Consumption
Advanced teardrop-shaped crushing chamber design, reasonable structure of the secondary crushing, output increase by 25% compared to other models.
Patented ventilating from shaft end system, output of small aperture material increase by more than 25%.
Using the new-type adjustable sieve pressure plate, adjustable back gauge and tuning technique, to destroy the material circulation layer.

03 Batching & Mixing System
After crushing,original powder and some premix will be weighed in batching scale according to proportional,then go down to mixer to reach uniformity.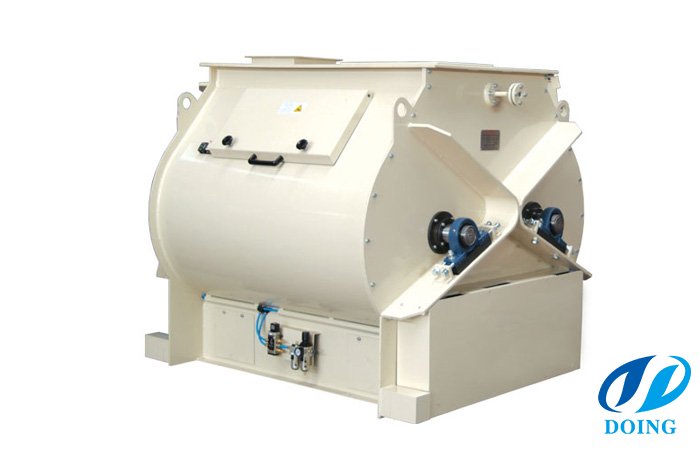 Features of our mixing system:feed mixer
(1)High Uniformity
Cross section of cylinder round, mixing without dead corner; barrel wall plot-free;
Enlargement in length opened discharge door at the bottom to reduce residues;
Mixed: CV ≤ 7, mixing time: 3-5 minutes;
(2)Safety
Opening angle greater than 90 degrees, the door self-locking, discharge door does not open at cylinder pressure loss;

04 Pelleting&Cooling System
After using high temperature steam to make raw material curing, the materials will be made to pellet through pellet press machine. Then the pellet will be cooled down by cooler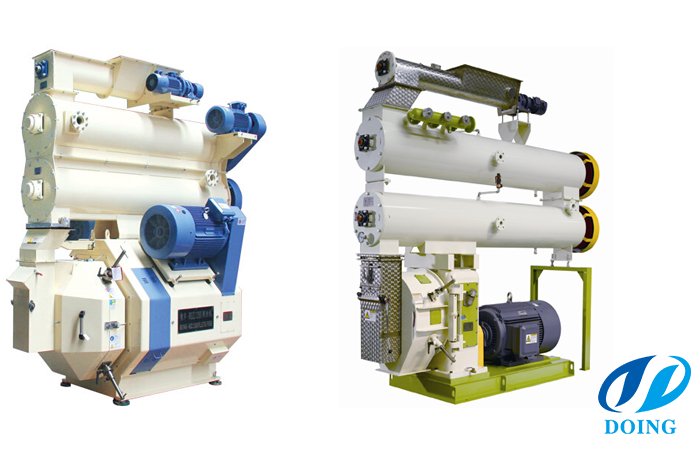 Livestock & poultry feed mill
Features of our pelleting system:pellet mill
(1)Flexible transmission mode,safe and efficient
Achieve adjustable speed by replacing the pulley
Double motors with triangle belt driving system, smooth rotation, low noise and no need lubrication.
(2)Practical and Durable
Compared with gear machine, the main shaft bearing is more durable, no oil leakage phenomenon.
The starting current is only half of gear machine because of double motors, and little influence on power grid.
The support bar and main shaft in pelletizing bin are forged together. Roller and main shaft are processed together to ensure the parallelism between the eccentric shaft of roller and axis of ring die, keep uniform gap between roller and ring die.
(3)Multiple Choices, Wide Application
Can be used for livestock and poultry feed, ruminant feed and aquatic feed.

05 Packing System
The finish product contain pellet of normal size,smaller size and bigger size.By use grading sieve,we can get normal size pellet.The whole process makes use of natural gravity to reduce amount of transport machine and of courese reduce secondary pollution and power consumption.
---
---
Get Support or Price!
If you want to get more information and offer of the equipment,leave us message online,we will reply as soon as possible !