Biomass pellet machine introduction
Biomass pellet machine can be used to process various kinds of material like sawdust, paddy straw, sun flower stalk, hulls, forestry wastes, wood chips, chemical waste and many other wastes or solid powder materials. As a kind of environment-friendly and efficient fuel, biomass pellets are extruded by the combination of press rollers and ring die work under normal temperature conditions in a biomass pellet mill, with the original bulk density of 130kg/m3 and final density of 1100kg/m3, the latter of which is conducive to pellet transportation and storage and a higher fuel value.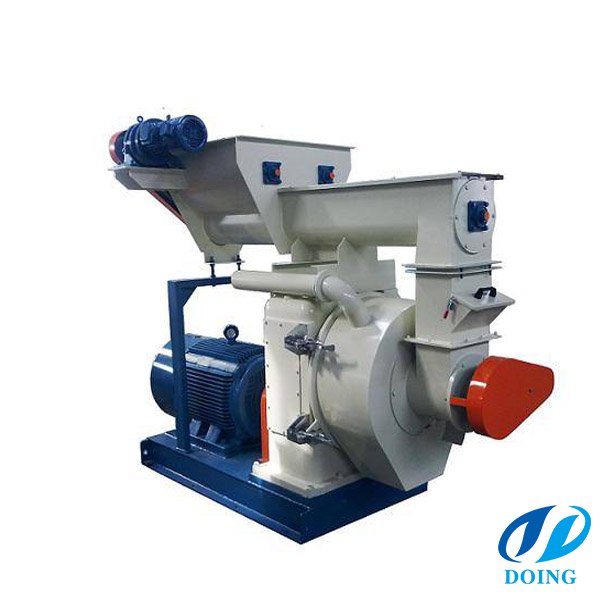 1. Application scope of materials
Biomass pellet machine can pelletize a variety of forest and agricultural waste or residues.
Agro waste: rice husks, corn cobs, peanut shells, sunflower seed shells, coconut shuck, coffee grounds, straw stalks;
Wood waste: many spices of trees, lumber, timber, shrubs, sawdust, saw shavings, twigs and branches.
Application of the pellet fuel: featuring highly efficient fuel value and convenient storage, pellets can be used for civil life and in households; it is also an ideal fuel for biomass industrial boiler replacing coal burning for a better environment; also for thermal power generation.

2. Features of biomass pellet machine
Biomass pellet machine is characterized by independent drive on all parts from feeding, mixing to pelleting and lubricating as well as unique ring die assembling and disassembling. The feeder adopts AC magneto in stepless speed regulating. Technically, the feed intake volume can be adjusted in view of the working load. The whole set remarkably possesses elegant structure design, advanced technology, high productivity, lower power consumption and easy operation.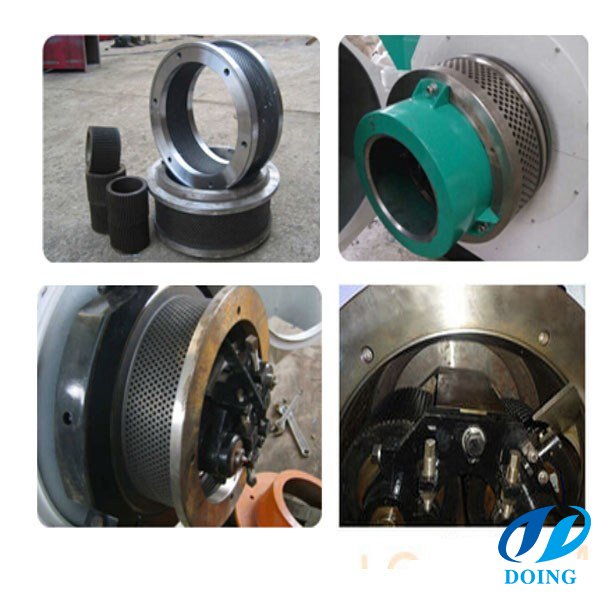 3. Main Structure and Working Principles of Biomass Pellet Machine
The biomass pellet machine consists of such systems as feeding, conditioning, actuating, pelletizing, lubricating, ring die assembling and disassembling, safety device with combination of mechanical and electric forces.
Feeder: this system has two parts, namely, driving part and screw feeder.
Driving part: it consists of AC electromagnetic motor and cycloidal pin gear reducer, the two of which are connected by a coupling and driven by a screw shaft.
Screw feeder: composed of coupling, screw shaft, pitch changing spirochete, stainless steel housing and end bearings, the feeder is designed to convey feedstock into the mixer.
Conditioner (mixer): it has two parts, namely, the drive system and stainless steel conditioner.
Drive system: it includes motor and a set of V-belt which then can help reduce rotation speed of the conditioner.
Conditioner: it consists of end bearings, shaft, paddles, stainless steel housing and water pipe, capable of mixing water and feedstock properly to soften the latter for the convenient of pelleting.
Water-spraying system: it can be put into use if material is inadvertently over-dried and it is just installed on the conditioning chamber for material moisture content to edge up a little in the conditioner.
Emergent door: a smaller front door is mounted with hydraulic cylinder to discharge material for emergency (for example, pelletizing chamber is choked.)

Pelletizing parts:
Ring die (also called the mold as key component of a biomass pellet mill) counts most in the pelletizing process. There are plenty of aligned pores on it forming a honeycomb zone which is the pellet forming area. Forged by using high quality alloy steel (high-chromium stainless steel alloy) and also thanks to the state of the art heat treatment, the die boasts super high hardness, strength and good wear-resistant property, producing pellets with diameter ranging from 2.5mm to 12mm to meet the clients' requirements (Generally biomass pellets are with the universally acquiescent diameter of 6mm or 8mm).

Reduction box: equipped with a pair of gear. When the main motor starts, driving force will be transferred to the main shaft via the coupling, featuring lower noise and less vibration. The ring die tightened on the end of the main shaft by the hold hoop will gyrate following the shaft.

Pelleting system: the eccentric shaft is supported by bearing and safety device. On the left is a pair of roller equipped on the eccentric shaft. The nip between rollers and the die can be regulated by adjusting the 4 nuts on the two long bolts. Specifically, the distance (also the nip) shall remain at 0.1mm to 0.3mm.

Press rollers: the rollers are sitting on the eccentric shaft via a bearing respectively and the bearing can be lubricated through the central oil duct connected directly with the backside grease pump for continuously periodic lubrication during pelletizing. Bearings are sealed up at both ends of the eccentric shaft. The housing of the shaft is also forged with high quality alloy steel and advanced heat treatment for better working performance.

Lubricating system:
On the back of the biomass pellet mill is a grease pump which mainly lubricates bearings of two press rollers in the pelletizing chamber. Technically, pelletizing demands a stable and constant lubricating system to ensure roller bearings can work in the condition of high pressure and high temperature, otherwise, roller bearings will be burnt rapidly, not to mention expanding the service life. The operator-oriented lubricating design stands out among all pellet mill suppliers.

Ring die changing device:
Just under the conditioner is equipped with a ring die hook controlled by a little motor. Ring die, with the heavy weight, is tough to be handled by personnel by bare hands. However, when ring die needs renewing, the assembling and disassembling will be difficult from pellet press. The speed adjustable hooker is a good helping hand for you to either mount or remove the die safe and sound.

Working principles:
The conditioned feedstock will flow into the palletizing chamber of pellet press to be extruded out from die holes, during which the extruding happens between the die and rollers. Later on, hot extruded columns will be cut into required pellet shape by the adjustable cutters mounted on the door. Safety device with combination of mechanic and electric forces

During operation, any impurities mixed into the feedstock will move forward to the extruding cavity. As a result, the coupling will be driven by the eccentric shaft, consequently, the shear pin will break off promptly in a forcible way so that the limit switch will be touched off. The signal will then be transmitted to the electrical control system to shut down the machine in case of accident or any other emergency.

We are a professional supplier and manufacture of biomass pellet machine in home and abroad. Our pellet mill for sale has broad market in the world and has been exported to Asia, Africa and Europe countries in recent years. We provide you the most professional pelleting service and our technicians are ready to help you at any time. Please feel free to contact us.
---
---
Get Support or Price!
If you want to get more information and offer of the equipment,leave us message online,we will reply as soon as possible !