Introduction to ring die wood pellet mill
This ring die wood pellet mill capacity ranges are from 500kg to 1500kg per hour. According to the characteristics of biomass fuel pelletizing, it is mainly designed for pressing combustible materials such as saw dust and grass into pellets. This wood pellet mill is usually equipped with 8mm and 10mm ring dies, because the 8mm and 10mm particle diameters are more favorable for combustion. Ring dies with other bore diameters can also be equipped according to different demands of users.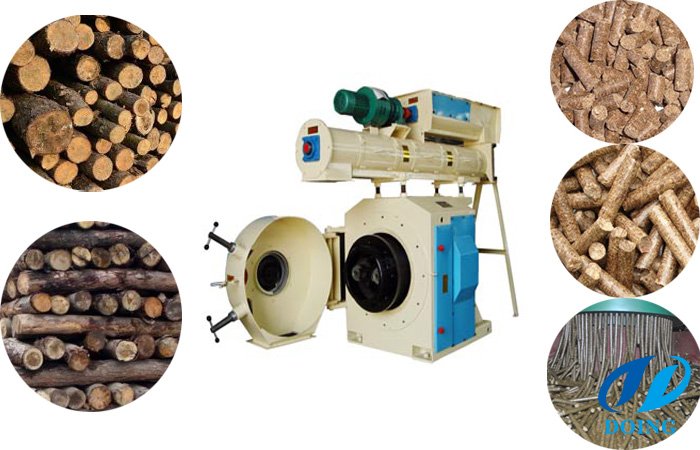 Wood Pellet Mill Features:
High-efficiency
Single-motor V-belts driving system features ideal transmission, big driving torque and steady running;Die in many thicknesses and multiple die hole diameters ranging from Φ6mm to Φ12mm are optional in light of customer's requirements, so as to achieve the best technical and economic benefits;

Intelligent
Feeding by an advanced frequency-conversion motor, equipped with an overload protection device and a magnetic separating device as well; high capacity, low noise, convenient operation and maintenance.

Stability
More than 4000 sets of wood pellet mills are running stably for a long term in over 60 countries all over the world. Pellet mill ranked the first in worldwide market share.

Double-motor
Double-motor synchronous gearing-shape belt step-by-step driving system is adopted by the machine, which is characterized by ideal drive ratio and large driving moment,smooth rotation, high output, low noise, and easy operation and maintenance.

Hommization
The wood pellet mill is equipped with overload protection device,outside discharging mechanism and motor load velocity device, safety is more assured. Full-automatic lubrication device is installed, ease of labor and better efficiency of lubricating. According to different wood variety, different type or tier conditioner is equipped.
---
---
Get Support or Price!
If you want to get more information and offer of the equipment,leave us message online,we will reply as soon as possible !